Here are 3 super simple valances that could be modified mistreated in a gazillion different ways. (There are more than a gazillion different fabrics, right?)
Come back next week for "Window Treatments: Part Three" for some simple curtain ideas!
Kimm @ Reinvented posted the How-to for this couldn't-be-simpler valance...something about folding and hanging...no sewing involved. For her precise directions - in two whole sentences! - click on the picture. I'm going to keep this in mind for sure because sometimes I like to change my valances, and this technique allows you to reuse the fabric for other projects because it remains intact with no seams to rip out or glue to cut around. Thanks, Kimm!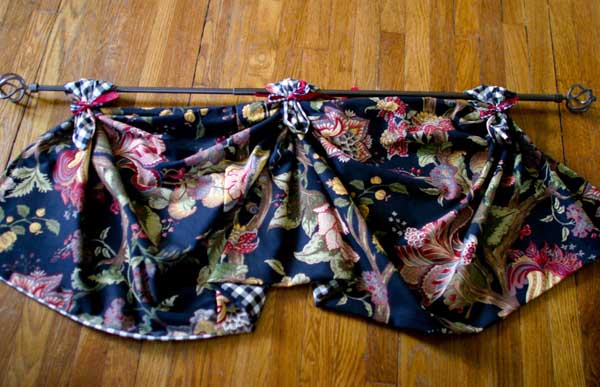 This beauty from Make and Takes (I saw this on Nester's site) is another simple project that could easily be done without sewing. Click on the pic to hop over to the tutorial.
Now, if you have a child who loves sports, this "mistreatment" might be for you! This adorable bedroom caught my eye on Rate My Space; click on the picture to bounce on over where she explains how she made this window topper with balls from her roof – what a hoot! Talk about recycling at its best!
---------------------
It's "A Beautiful Life" Friday at The Inspired Room. Fly over there for more beautiful inspirations from Melissa and her bloggy friends!